Welcome to Fitness Lady ... Your New Fitness Center​​
---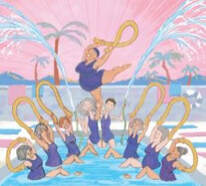 What to Expect in a Water Aerobics Class and Why You Should Try It

If you are looking for a low impact exercise you can do for decades, then water aerobics may just be the workout you need!
​
​

* No age or physical limitations, fits any skill level.
* You can build muscle.
* You can increase stamina and endurance.
* If the weather is cooling down, bring your workout inside to a heated pool.
* Great for those with joint problems and chronic pain.
* Classes are one hour long.
* Pool depth 3-5 feet, you don't have to know how to swim!

Water aerobics is low impact but that doesn't mean it can't be an easy or tough workout. ​Come and join us, be our guest!
---
---
Is it possible to transform your body in 4 weeks?
Yes, ABSOLUTELY!
​
Start today with our "Tank Top Tone-Up" training. The training theme for June will be "Above the Belt", start anytime and see results. Join the 'health train' and see changes taking place before your eyes!
---
November 1st 1991 Fitness Lady opened her doors to women of all ages for the primary purpose of establishing better health habits in their lives. As we celebrate our 30th year I want to thank all of you for supporting Fitness Lady and placing your trust and confidence in us and our commitment to help you achieve better health. This year has brought many difficult challenges for all of us. But as we look toward the finish line and our theme to Bee Resilient we see we are not done yet. Let's finish this race together!
---
​This

7,500-square foot

, Women's Only Health and Fitness facility has been serving women in Northwest Louisiana since 1991. ​​

Indoor Pool, Sauna, Whirlpool, Showers, Vanity Area, Private Dressing Rooms and Water Aerobic Classes for all Ages.

Fully housed with State of the Art Exercise Floor Equipment, On Staff Dietitian, Fitness Assessments, Personal Trainers, Aerobic and Strength Training Classes.

---

---

Think it is too late to "Reinvent" yourself? Think again, it is never too late to find a new sport, passion, hobby, or career, no matter your age. We are all growing older and we can do it successfully physically, socially, emotionally, mentally and spiritually! Let's Reinvent ourselves together and celebrate Healthy Aging!!!


* 20,000 gallon swimming pool
3 ft to 5 ft deep
84 to 85 degrees
double rail entry
* 2,000 gallon whirlpool
104 degrees
double rail entry
* Sauna (dry heat)
* Showers
* Vanity Area with Hair Dryers
* Lockers and Dressing Rooms
​​​​​Benefits of Water Aerobics
* Low impact on joints
* Decreases muscle soreness
* Great for those with balance issues
* Improves muscular endurance
* Improves core strength and endurance
* Reduces risk of falling
* Improves flexibility
* Fun and enjoyable

* Results Based Personal Training
* 6 Instructional Sessions for New Members
* Variety of Cardio Equipment
* Weighted Machines
* Complete Free Weight Area
* Fitness Assessments
* Wellness Dietitian
* One-on-One Consulting
* Educational Seminars Open to the Public

* Certified Personal Trainers with more than 20 years of experience and education. Making a difference in members lives concerning their health, mobility, illnesses and maintenance for a better life.
* Comprehensive Fitness Assessment
* Realistic and Achievable Goals Set
* Food Journal Evaluation​​
​Benefits of Personal Training
​​* Personal Training - Custom Fit For You!
* Learn the right techniques to avoid injury while achieving powerful results.
* Find new and challenging workout routines that change week to week.
* Reach your goals with customized routines designed to meet your unique physical needs.
* Never give up, for that is just the place and time that the tide will turn.
---
Location

Fitness Lady
1700 Old Minden Rd., Suite 180
Bossier City, LA 71111
(318)-747-1897
Email: Fitnesslady@fitnessladyonline.com
​Benton Rd Exit off I-20 (East Bound)
Old Minden Rd Exit off I-20 (West Bound)
Bossier Crossroads Shopping Center

Club Hours

Monday through Thursday
8:00 A.M. to 7:00 P.M.
Friday
8:00 A.M. to 4:00 P.M.
Saturday
9:00 A.M. to 12:00 P.M.
Sunday
closed
Fitness Lady Family, Friends and Fans:

Fitness Lady will adjust her hours this week and close Friday (July the 23rd) and Saturday (July the 24th).

We will be back to normal hours and operations Monday, July 26th.
Looking forward to seeing and serving you!

Get Fit - Stay Fit​
---
---
Subscribe
---
Healthier employees are more productive employees.​​​
​​
Call 318-747-1897 or email fitnessladyonline.com for more
information regarding our Corporate Membership discounts.