​​Benefits of Water Aerobics

Low impact on joints
Decreases muscle soreness
Great for those with balance issues
Improves muscular endurance
Improves core strength and endurance
Reduces risk of falling
Improves flexibility
Fun and enjoyable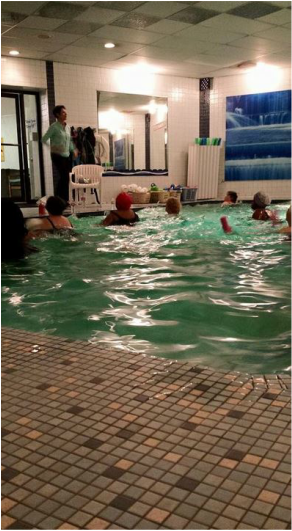 ---
Wet Area
---
​Summer workouts without the hot, sweaty mess
Looking for a great summer workout but not interested in being a hot, sweaty mess?

Leave your gym shoes in the closet and turn to water exercises instead.

Water aerobics is becoming increasingly popular, with classes popping up everywhere — and for good reason.

"Since starting in the fitness industry over 35 years ago, I have grown to see the many reasons why more people should be in the pool or in a water aerobics class," says Kedgy Larson, aquatics instructor at Fitness Lady in Bossier City.
​
"People with disabilities are often caught in a cycle of pain, depression and stress. Disability can lead to social isolation and the belief that exercise and fitness is impossible for them. Aquatic exercise however is able to break this chronic pain cycle largely because of the unique properties of water.
---
* 20,000 Gallon Swimming Pool, 3ft-5ft deep, 85 degrees, double-rail entry

* 2,000 Gallon Whirlpool, 104 degrees, double rail entry

* Sauna (Dry Heat)

* Showers

* Vanity Area With Hair Dryers and Much More

* Lockers, "while you're here"
---